Murals of Acceptance
We believe that change and connectivity is in the power of art. The goal of Murals of Acceptance is to bring fine art to all people in public spaces.
We are partnering with municipalities and private owners of museums, public buildings, and historic landmarks to provide us with exterior walls for murals.
We are honored to be collaborating with the greatest artists of our time to create murals and art that speak to acceptance and provoke love and respect to every passerby.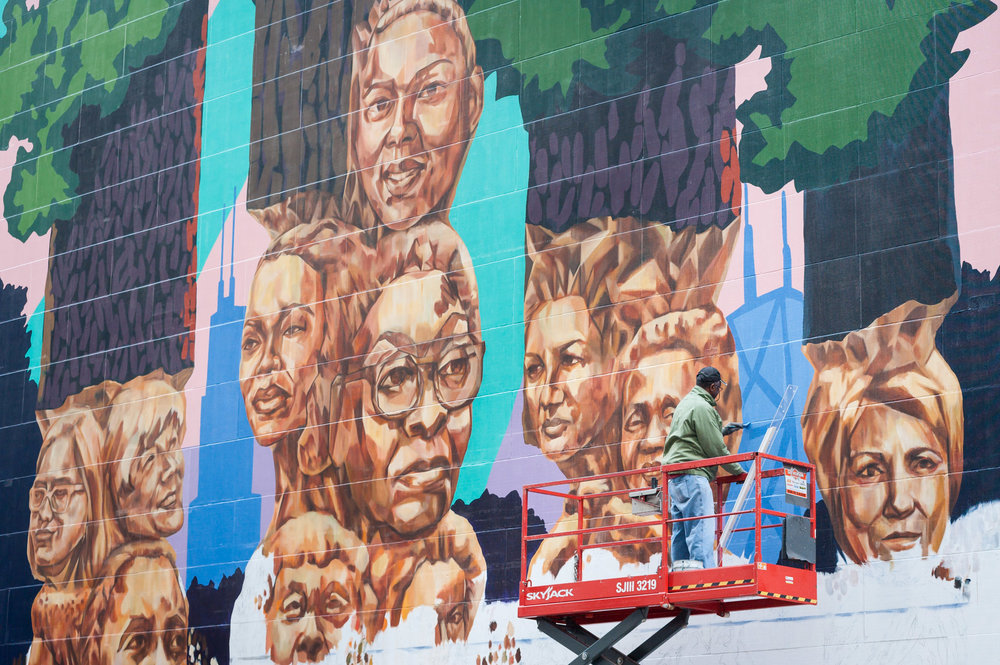 Project 1:
Chicago Cultural Center
"Rush More" by Kerry James Marshall
With the support of Chicago's Mayor, Rahm Emanuel, Commissioner of Cultural Affairs, Mark Kelley and Curator of Exhibits and Public Art, Nathan Mason we have not only completed our first mural but also the largest in Chicago's history.
The mural "Rush More" honors 20 women, past and present, who contributed to the cultural life of Chicago.
"This piece is going to capture, I think, the imagination not only of the city but the country and put Chicago in its rightful place as a city of public art." - Mayor Rahm Emanuel
"It just seemed like a great place to bring the living culture of the Cultural Center, and the living culture of the city to life again." - Kerry James Marshall
"We've been working 14 hour days really, it's so big. When you do something this big you've got to build in some time for unforeseen events. But it makes it bigger in every sense of the word: more materials, more time. Big means big." - Muralist Jeff Zimmerman
Contributors
Kerry James Marshall charged Murals of Acceptance $1.00 for his time and work.
The project was possible and paid for by Marc and Lynne Benioff.
We appreciate their generous donation and love for the arts!
Donate
Murals of Acceptance is a non-profit organization based in Los Angeles, CA and operates soley on private donations.